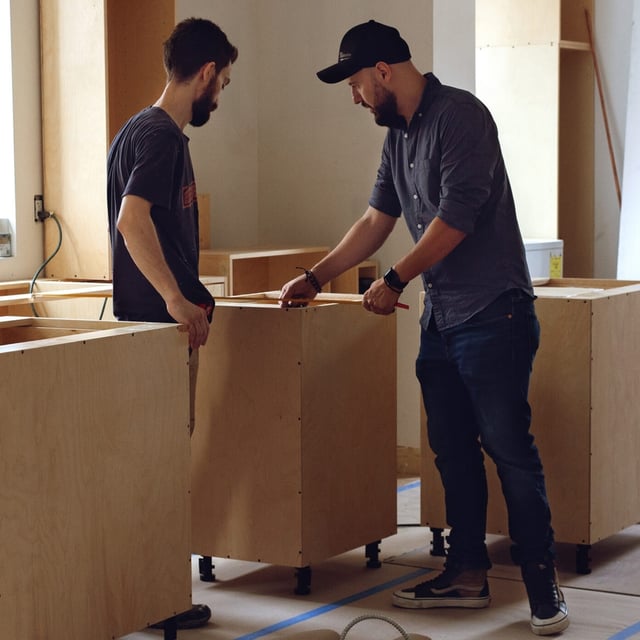 Our Contractor Matching Process
A good contractor is the keystone to any successful project, so we'll make sure that you work with someone you're excited to renovate with. Our rigorous matching process makes it easy for us to match contractors to homeowners based on the unique fingerprint of the project.
Read on to learn how Block gets it right on the first try.
Finding your Match
To start, we filter our contractor network by specific project details such as location, insurance, and scope to identify a base of potential partners. This ensures that your contractor has the requisite experience in your area, the proper licensure & insurance coverage, and the technical skills to execute your particular scope.
Next, we look at past project performance and prioritize contractors with the highest project ratings. Projects are awarded to contractors with a history of successful outcomes, and each contractor's performance is evaluated at the end of every Block project to ensure that they maintain a best-in-class standard of work. Everyone in our network has earned, and continues to earn, their place with every project.
We then cross-reference previously completed Block projects to check if any qualifying contractors have worked directly in your building, if applicable. This is because we've found that contractors with previous experience in a building have a substantial head start with understanding a building's existing conditions and requirements.
Finally, we sweep eligible contractors to determine which ones are best suited to your project based on their availability and your project timeline. We aim to match your project with the best suited contractor who has a schedule aligned to your desired break ground date. By taking each contractor's bandwidth into account, we forecast timelines to help ensure a manageable workload for our network. If your timeline changes or we identify unique requirements for your project, we may need to identify a new partner or work with both parties to accommodate another start date.
In-Person Meeting
Once you are matched with a contractor, we encourage you to connect with them virtually or in person at your earliest convenience and confirm it is a great fit. You can use this time to learn more about them, share any relevant considerations, and complete a walkthrough of the site. This is a great opportunity for your contractor to look at your home's existing conditions and prepare for break ground. You can also discuss the Block scope of work and any project extensions you might have.
Your contractor will be a primary partner in making your renovation a success. You will work directly with them to address any questions or concerns that arise during the build in order to keep your project on track. Our matching process is designed to pair you with the contractor that will be able to execute your project most efficiently and effectively. Ultimately, our goal is to match you with a contractor you are thrilled to renovate with and our Contractor Match Guarantee offers rematch options to help you find the right partner for your project— if we can't find a solution that fits your budget or a contractor you are excited to renovate with after three introductions, we will refund your deposit or, if applicable, provide your design approval assets and a prorated refund to your Block Support payment.
Contractor Feedback
After each project is complete, we rely on homeowners to provide feedback about their experience with the contractor. This feedback helps our contractors continuously improve, celebrates their successes, and make sure the next Block homeowner also has a great experience.