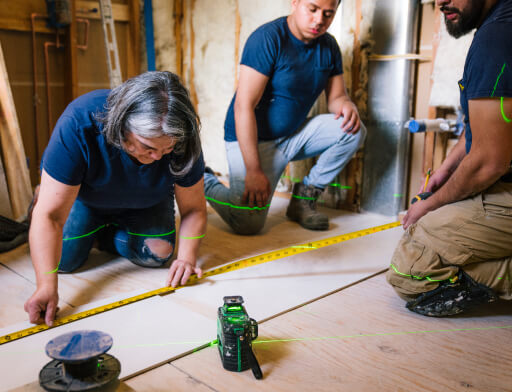 Sealing the Deal: Tips for Negotiating and Finalizing a Contract with Your Bathroom Contractor
Bathroom remodeling can be an exciting yet stressful process, and finding the right bathroom contractor is crucial to ensure a successful and stress-free project. However, negotiating and finalizing a contract with your chosen bathroom contractor is just as important to ensure that your project runs smoothly and meets your expectations. In this blog post, we'll offer practical advice on how to negotiate and finalize a contract with your bathroom contractor, including essential elements to include in the agreement.
Preparing for Negotiation
Before starting the negotiation process with your bathroom contractor, it's crucial to assess your needs and budget for the project. Determine what you want to achieve with your bathroom remodel and what you're willing to spend. This will help you determine what services you need from your bathroom contractor and what you can afford.
It's also important to research market rates for bathroom contractors in your area. Look at average rates for bathroom remodeling services and compare them to the quotes you've received from prospective contractors. This will help you determine what is reasonable to expect from a bathroom contractor in terms of pricing.
Identifying your non-negotiables for your bathroom remodeling project is also important. Consider what features or services are essential to your vision for your new bathroom. Knowing your non-negotiables will help you negotiate with your bathroom contractor and ensure that you get the services you need.
Researching Prospective Contractors
To find the right bathroom contractor, it's essential to do your research. Look for contractors who have the necessary credentials and experience in bathroom remodeling. Check their licensing and insurance information, as well as their portfolio and past client reviews. A good bathroom contractor should have a comprehensive portfolio that showcases their past work, as well as positive reviews from past clients.
When evaluating prospective bathroom contractors, consider their communication style as well. A good contractor should be responsive and easy to communicate with, addressing your questions and concerns in a timely manner.
Negotiating the Contract
Once you've identified a prospective bathroom contractor, it's time to negotiate and finalize a contract. Communication is key when negotiating with your bathroom contractor. Be upfront and clear about what you need and what you can afford. If you have concerns or questions, address them with your contractor. A good contractor will be willing to work with you to find solutions that meet your needs and budget.
Flexibility and open-mindedness are also important. While it's crucial to stick to your budget and non-negotiables, there may be some areas where you can compromise with your contractor. For example, you may be able to choose a less expensive material or fixture without sacrificing the overall quality of your remodel.
The contract should include essential elements, such as project scope, timeline, payment terms, and warranties. The project scope should clearly outline what services the contractor will provide, as well as what materials and fixtures will be used. The timeline should include a start date and an estimated completion date for the project. Payment terms should be clearly outlined, including how much and when payments will be made. And warranties should be included to ensure that you're protected in case of any defects or issues with the work.
When negotiating the contract with your bathroom contractor, it's also essential to consider additional services that may be available. For example, some bathroom contractors offer design services or can help you choose materials and fixtures that meet your needs and budget. Ask your contractor about any additional services that they may offer, as these can help make your bathroom remodeling project more successful.
Finalizing the Contract
Once you've negotiated the terms of the contract with your bathroom contractor, it's crucial to review the agreement thoroughly before signing. Make sure that all the essential elements are included and that you understand what is expected of both you and your contractor
. If you have any questions or concerns, address them before signing the contract.
After reviewing the contract and agreeing to its terms, sign it and make a deposit. The deposit shows your commitment to the project and ensures that the contractor can start work on your bathroom remodel.
Managing the Project
Regular communication with your bathroom contractor is crucial once the project is underway. This will help ensure that the project is progressing as planned and that any issues or concerns can be addressed in a timely manner. It's also important to monitor the project's progress and ensure that the contractor is adhering to the terms of the contract.
If there are any changes or issues that arise during the project, address them with your bathroom contractor as soon as possible. This will help prevent delays or misunderstandings and ensure that your bathroom remodel stays on track.
You should also be prepared to make decisions throughout the project. Your bathroom contractor will likely need your input on materials, fixtures, and other design elements. Be sure to make these decisions in a timely manner to prevent delays in the project's progress.
Finally, it's important to ensure that your bathroom contractor has the necessary permits and licenses to complete the project. Check with your local building department to ensure that your contractor is compliant with all necessary regulations.
Conclusion
Finding the right bathroom contractor and negotiating a contract are crucial steps in ensuring a successful bathroom remodeling project. By assessing your needs and budget, researching prospective contractors, communicating clearly with your contractor, and including essential elements in your contract, you can establish a successful and mutually beneficial working relationship with your bathroom contractor. By following these tips and staying involved in the project, you can enjoy a beautiful and functional bathroom that meets your needs and exceeds your expectations.